Ⅰ Current situation and problems
ページ内目次
Proposal for Conservation of the River Environment in Kushiro Mire
Ⅰ Current situation and problems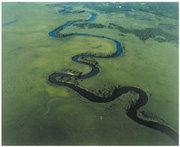 Kushiro Mire boasts one of Japan's most outstanding natural environments and serves as an important habitat for wildlife. The mire is important for human beings, too, serving as a reservoir through its water retention and purification, providing flood control as a retarding basin, and moderating the regional climate. The mire is a precious asset that should be conserved now and in the future.
 The recent expansion of economic activities in the catchment basin has resulted in a marked decrease in the mire area, and the mire vegetation has changed rapidly from colonies of reed and sedge to alder forest. Nature is destined to change, and the mire cannot escape its transformation to land. However, the recent changes have had a negative impact not only on wildlife, but also on humans. It is urgent that we develop countermeasures based on various practical investigations and evaluations for the conservation and recovery of the mire.
 Kushiro Mire extends over the catchment basin of the Kushiro River. Residents of this basin, citizens' groups, private companies and administrative bodies all relate to the mire in various ways. Even so, very few of the exchanges and instances of cooperation among these groups are based on their various relationships with to the mire, and this can be a major problem.
Changes in alder distribution