4 Controlling the mire vegetation
ページ内目次
Proposal for Conservationof the River Environment in Kushiro Mire
Ⅲ Measures to meet the targets
4 Controlling the mire vegetation
 To counter the rapid increase in the distribution of black alder and the decrease in reed and sedge colonies, which are indicators of a river environment, measures should be taken to control the vegetation of the mire.
[Specific measures]
 Control the vegetation by changing groundwater levels and the frequency of inundation, and by obstructing flow of sediment and nutrient salts. Specific measures are as follows: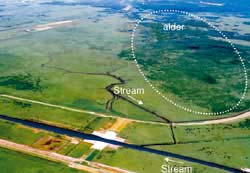 Setsuri Sluice area:
Raise the groundwater level by inundation, and clarify its influence on mire vegetation. Complete the experiment, with the target date of fiscal year 2002, then evaluate it.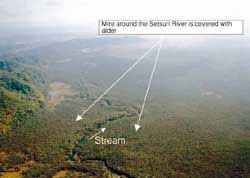 Setsuri River area:
Based on the experiment in the Kayanuma area, restore the Hororo River to its original shape and prevent sediment overflow where the Hororo and Setsuri rivers share a reach, so as to control the character of the mire vegetation.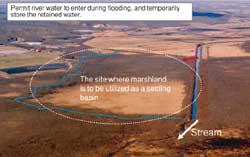 Kuchoro River area:
Control the mire vegetation by using the mire as a settling basin where the Kuchoro River enters the mire. Start working on this area immediately.